Hi,
I want to create a multi instance task like message start in Start notation.
I have hidden the popup header and want to add Multiple Instances Task in the popup menu.
I modified ReplaceOptions.js file to add MultiInstance Task. But it is not working.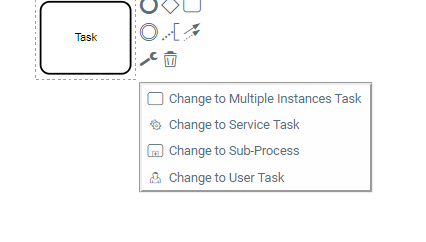 Any inputs will be appreciated.
Message Start:
{
label: 'Change to Message Start',
actionName: 'replace-with-message-start',
className: 'bpmn-icon-start-event-message',
target: {
type: 'bpmn:StartEvent',
eventDefinitionType: 'bpmn:MessageEventDefinition'
}
}
I created MultiInstanceTask like below but not working
{
label: 'Change to Multiple Instances Task',
actionName: 'replace-with-task',
className: 'bpmn-icon-task',
target: {
type: 'bpmn:ServiceTask',
eventDefinitionType: 'bpmn:multiInstanceLoopCharacteristics'
}
},