Hi everybody,
I'm trying to override userTask's shape in the modeler. I checked the custom-elements example but I need more advanced design. What I want to achieve is something like below;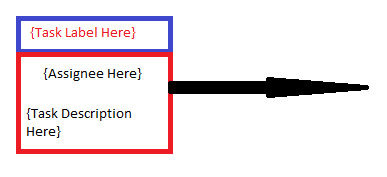 I want to display assignee, task label and task description (which you may think custom property) on the modeler. Is it possible?
I tried to draw boxes (red and blue in my case) using tiny-svg lib but I couldn't done it yet. I've tried to draw rectangles and append them to each other, however I'm getting an error like below;
HierarchyRequestError: Node cannot be inserted at the specified point in the hierarchy
If there are more complex designing (rather than circle, square) examples for tiny-svg library, please let me know. Besides, how could I display custom properties (or assigned user) on modeler?