Hi,
I'm trying to modify the bpmn modeler by adding custom element in the palette which I able to do thanks to Custom Elements exemple but the thing is when I save the diagram in the bpmn file, my new element are registered as "bpmn:Task" element. So when I load the same file in the editor it appears as a normal Task and not like my custom element.
Custom rendering of my element :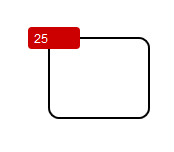 Rendering after loading the bpmn file :

How can I save my custom Element in a way that when I load it again it appears with my custom design ?
Thanks in advance for your time