Double click sequence flow to enter text. But this text itself can not be deleted by delete key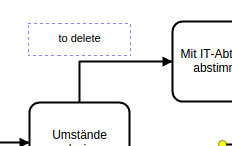 Hello @frasal99,
I've added an issue regarding this. We've disallowed the removal of labels, because it wasn't possible to add them back after deletion. At the moment, you can remove the label by clearing the text inside of it.
Cheers,
Ricardo
This is a bug in the latest bpmn-js. I updated the topic accordingly.
If you would like to give general feedback on the Camunda Modeler, head over to the new Modeler forum to do so.