I have a choreography task and I want the possibility to edit three different labels.
It should be work like participant and lanes where lanes are selectable and it is possible to change lane's label without modify the label of Participant.
The result should be like the image below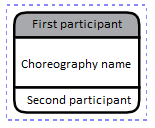 How can I make selectable the three parts of choreography task and give them their own label?